Anne Bonny the Irish pirate who sailed the Carribean attacking ships for their plunder V.S. Davy Crockett the American hero who settled the west of America.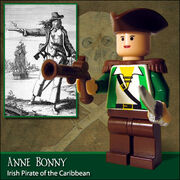 Anne Bonny's Weapons

| | |
| --- | --- |
| Short Range | Cutlass 30% |
| Mid Range | Flintlock pistol 30% |
| Long Range | Blunderbuss 10% |
| Special Weapons | Grenado 30% |
Davy Crockett's Weapons

| | |
| --- | --- |
| Short Range | Bowie Knife 10% |
| Mid Range | Revolver and Revolver Whip 20% |
| Long Range | 1800's Military Shotgun 20% |
| Special Weapons | TNT 50% |
Battle
Davy Crockett and 4 of his men set up camp near the shore awaiting the arrival of their enemy.2 minutes later they see a rowboat approaching Davy then says"Ready your guns and let's welcome them with a bang."One of Bonny's pirates walk onto shore on some dynamite and it blows.Anne and her last 3 pirates walk on shore and they charge yelling,but Davy pulls his rifle and fires hitting one of the pirates and a pirate shoots his rifle finally killing one of Davy's men.Anne then draws a pistol and fires killing another of Davy's men,Davy then pulls his revolver fires killing one of Anne's men he then tells his men to stop them and runs.Then one of the men turns and is shot in the head by Anne's pistol and then she throws a grenado killing another man.Anne's last man tries to fire his pistol,but sees it is empty and tries to reload but Davy's man puts his knife in his heart.Anne then fires he Blunderbuss killing the man and runs after Davy,she runs into a field and looks around seeing no one,but Davy uses his pistol smashing it over her head and then firing in her face.He then bends down and whispers in her ear"Remember the Alamo always."and then walks towards her rowboat.
Davy Crockett:Wins
Anne Bonny:Loses
I was a little surprised with the results.Davy won with 687 kills and Anne with 313.