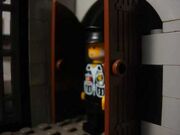 Adolf Hitler famous German Nazi leader who murdered over a million Jews V.S. Saddam Hussein murderous Iraqi war leader who killed numerous amounts of people during his reign.
Saddam Hussein's Weapons

| | |
| --- | --- |
| Short Range | Combat Knife 10% |
| Mid Range | Browning Semi Auto-Matic Pistol 20% |
| Long Range | RPK light machine gun 50% |
| Special Weapons | RGD-5 grenade 10% |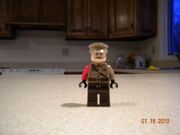 Adolf Hitler's Weapons

| | |
| --- | --- |
| Short Range | Walther P38 30% |
| Mid Range | MP18 20% |
| Long Range | STG 44 30% |
| Special Weapons | S-mine 10% |

Battle
Adolf Hitler and 4 of his Nazi soldiers approach Saddam Hussein's base all with different weapons out except for Hitler who is wielding a Walther P38.Saddam is in his office and hears a huge gun fire and yells to his troop in the room to go check it out.Hitler then yells after the man is dead to his comrades"Gehen finden und toten diejenigen Iraker hunde!!!(go find and kill those Iraqi dogs)."Hitler then hides behind a truck in the room and has his troops do his work.The 2nd troop comes face to the 3rd soldier,they both pull their pistols and fire the troop kills the Iraqi soldier by shooting him in the head.He himself was shot in the leg he then sees if his pistol has ammo left and he figures out he is not alone and pulls his MP18 and the soldier pulls his knife and before the Nazi troop has time to turn the soldier's Combat Knife goes through the troop's neck.The 4th soldier who killed the troop then goes down a hallway with a RPG-5 grenade in one hand and a RPK machine gun in the other,seeing a troop down the corridor he pulls his grenade and throws it and it explodes.Thinking he won he goes to gloat,but realizes it was his buddy killed in the main room when Hitler entered.Surprised he turns and is shot by the Nazi troop behind him with his STG 44.The troop then runs and sees another living troop and throws his grenade killing him.He then encounters the last troops he pulls his knife killing one by stabbing him in the heart,then he runs down the hall the last troop following,he then runs nto the Nazi's mine and it blows up under his feet.The troop then finds the door to Saddam Hussein's office he enters the lights are shut off and out of no where he is blasted by Saddam's pistol.He then exits and runs to his truck not seeing Hitler on the back of the truck with setting his S-mine and running away.As Saddam starts the car he activates his mine blowing the entire truck to bits he then exclaims,"SIEG!!!!!"(Victory)
Adolf Hitler:Wins
Saddam Hussein:Loses
I was not surprised that Hitler won.He won with 555 kills and Saddam with 445 kills.